*Kindly note that only Chinese New Year Special Dinner Premium Buffet will be served from 2nd February – 4th February 2019, from 4pm onwards.
*Senior Citizen & Student Promotion is not applicable from the eve till 7th days of Chinese New Year.
Adult $68++ | Child $25++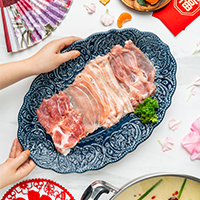 Receive a complimentary Prosperity Pork Platter from us for every 4 person reservation!
Pork Belly 五花肉
Pork Collar 猪颈肉
Pork Loin 猪里脊
Pork Shoulder 猪肩肉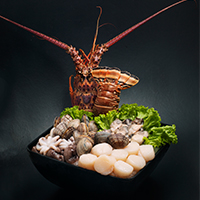 Bamboo Lobster 龙虾
Scallops 带子
Sea Cucumber 海参
Black Mussels 螺
Cheese Luncheon Meat 芝士餐肉
King Oyster Mushroom 杏鲍菇
Japanese Shiitake Mushroom 椎茸
Quail Eggs 鹌鹑蛋
Special Stuff Beancurd Roll 酿豆皮卷
Fragrant Fishball 香肉丸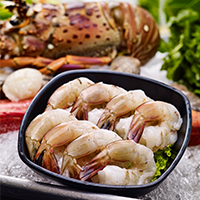 Flower Crab 花蟹
Oysters 蚝
Prawns 虾
Jellyfish 海蜇
Fish Fillet 鱼片
Fresh Squid 鲜鱿鱼
Soaked Cuttlefish 泡鱿鱼
Fish Head 鱼头
Fish Maw 鱼鳔
Local Fish Ball 鱼丸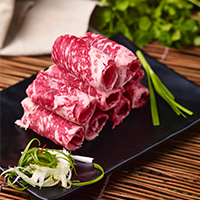 Thinly Sliced Beef 薄片牛肉
Beef Fillet 牛肉片
Thinly Sliced Pork 薄片猪肉
Pork Fillet 猪肉片
Chicken Fillet 鸡肉片
Pig's Liver 猪肝
Pig's Stomach 猪肚
Deep Fried Pig's Skin 炸猪皮
Luncheon Meat 午餐肉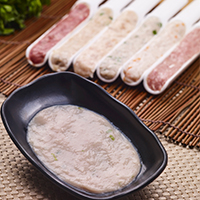 Fish Glue 鱼滑
Fortune Fish Paste 富贵鱼浆
House Special Shrimp Paste 特制虾浆
Cuttlefish Paste 鱿鱼浆
Beef Paste 牛肉浆
Chicken Meat Paste 鸡肉浆
House Special Pork Paste 猪肉浆
Shrimp Wanton 云吞
House Special Dumpling 特制水饺
Crab Stick 蟹棒
Stuff Beancurd Skin 酿豆皮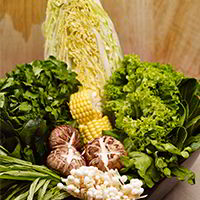 Golden Mushroom 金针菇
Shimeji Mushroom 玉蕈
Chinese Cabbage 大白菜
Chinese Spinach 菠菜
Local Lettuce 生菜
Xiao Bai Cai 小白菜
Tang O 茼蒿
Golden Mushroom 金针菇
Chinese Cabbage 大白菜
Chinese Spinach 菠菜
Local Lettuce 生菜
Xiao Bai Cai 小白菜
Tang O 茼蒿
Kang Kong 空心菜
Kang Kong 空心菜
Agalic 黑木耳
Beancurd Skin 炸豆皮
Watercress 西洋菜
Yam 芋头
Corn 玉米
Silken Tofu 绢豆腐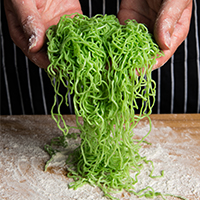 Green Noodle 菠菜面
Silver Noodle 粉丝
Bee Hoon 米粉
Garlic Rice 蒜蓉炒饭
Plain Rice 白米饭
Egg 蛋